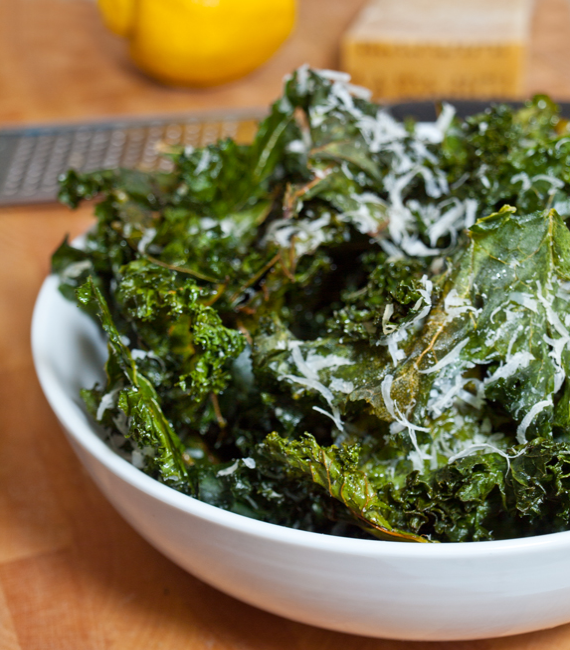 Your going to like these kale snack chips and feel guilt free at the same time.  Kale is one of the healthiest vegetables around. It has more nutritional value, higher levels of antioxidants and fewer calories than almost any other food. In this recipe, I've topped the kale leaves with nutty Parmesan, salt and a squeeze of fresh lemon juice. You are going to fix these chips again real soon!  Serving size: 4  (5 chips each)
Here's what you need:
1 pound curly kale, leaves removed from tough stems and torn into large pieces
2 tablespoons extra virgin olive oil
1/4 teaspoon salt
Lemon
3 tablespoons freshly grated Parmigiano-Reggiano
How to Prepare:
Preheat oven to 300 degrees. Line two baking sheets with aluminum foil.
In a large bowl, using your hands, toss kale leaves with olive oil until evenly coated. Arrange kale in a single layer on prepared baking sheets and bake for 25-30 minutes, until leaves are completely crisp but not browned.
While leaves are still warm, sprinkle with Parmigiano-Reggiano, salt and a squeeze of lemon (go very easy on the lemon…a little goes a long way). Taste and adjust seasoning if necessary. Transfer to a platter and serve.
Nutritional Analysis: 34 calories, 2g fat, 68mg sodium, 3g carbohydrate, 1g fiber, 1g protein