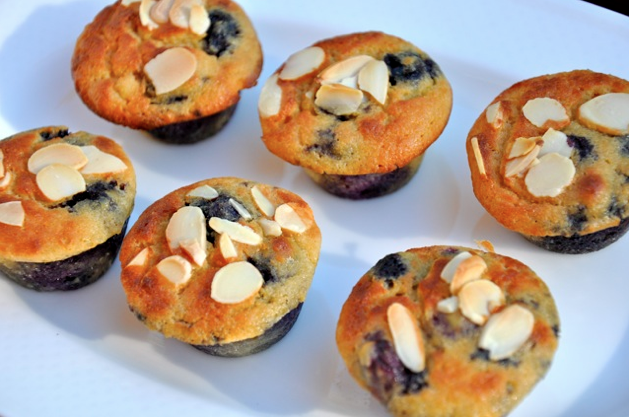 Most baked goods are terrible for your waistline. Products made with refined flour, sugar and unhealthy fats should always be avoided. This recipe for mini muffins uses coconut flour, an alternative to wheat flour that is lower in carbs and free of gluten. Enjoy one for a breakfast on-the-go or as a quick snack. Servings: 24 
Here's what you need:
6 eggs
1/2 cup coconut oil, melted over low heat
1 teaspoon vanilla extract
1/4 teaspoon almond extract
1/4 cup grade B maple syrup
1 lemon, zest and juice
1/2 cup coconut flour
1/2 teaspoon salt
1/4 teaspoon baking soda
1 cup organic, fresh blueberries
1/4 cup sliced almonds
Preheat oven to 350 degrees F. Grease a mini muffin pan with coconut oil.
In a medium bowl combine the eggs, melted (and cooled) coconut oil, vanilla and almond extract, maple syrup, lemon juice and zest.
In a small bowl, whisk the coconut flour to remove lumps, add salt and baking soda.
Mix the dry ingredients into the wet ones, then gently fold in the blueberries.
Fill each mini muffin tin to the top, then sprinkle with sliced almonds.
Bake for 30 minutes, then turn on the broil for 1-2 minutes (watch close!) to lightly brown the tops.
Allow to cool before removing from muffin tin. Store in an airtight container in the fridge for up to a week.
Nutritional Analysis: 84 calories, 5g fat, 55mg sodium, 4g carbohydrate, 1g fiber, and 2g protein
Click video to see 1 month testimonial
Today has been one month (12 personal training visits) for husband and wife Mark and Barbara since they have been training at RobZFitness. Today I re-calculated their one month body fat percentage and tape measurements and Mark has dropped over 18 pounds and Barbara has dropped 17 pounds. Both of their goals coming into the studio was to lose weight and tone up. So far they are off to a great start and lost plenty of inches. Applying sound training/nutritional principles results like this are very typical in what you too can achieve at RobZFitness.
With over 90+ testimonials on my website these results should provide all the proof you need that we are your only personal training studio you should ever consider training at.
From more information about RobZFitness call me at (813) 571-3700 or go to www.RobZFitness.com.