Lost 30lbs, 12.2% BF, Pant Size 38-34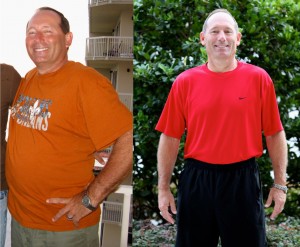 When I joined RobZFitness, I was overweight and completely out of shape.  My life was consumed by work, and my leisure time was filled largely by watching TV.  I was in a vicious cycle that I couldn't seem to break.
Rob Z provided a structured program designed to achieve desired results by using sound and proven fundamentals of physical fitness and diet.  Hard work and determination is combined with focused, personalized coaching … no drugs, no fad diets.  Rob Z's program monitor's your progress, and implements the necessary adjustments to assure that you get the most from the program.
The results speak for themselves. Within 3 months, I dropped 30 pounds of weight, reducing my body fat percentage from 29.9% to 15.7% (12.2%).  My waist size was reduced from 38.5 inches to 34.78 inches during this same interval. As a casual tennis player, my court speed and endurance improved considerably, enabling me to improve my ability to compete.
While there's no substitute for hard work, Rob Z's program brings leading edge exercise techniques and personalized training  to assure that you achieve the best results in the shortest time possible.  If you're ready to challenge yourself to achieve better overall health and physical fitness, I strongly suggest that you consider RobZFitness.
Larry Ainsworth
Jamie Ross has been training at RobZFitness for the past 2 months.  Her goals were to lose weight and to tone up.  She has lost 12 pounds of body fat and a lot of inches.   She has improved her overall fitness level from 66% to 91%.  Great job Jamie up to this point!
From more information about RobZFitness call (813) 571-3700 or email me at Rob@RobZFitness.com.