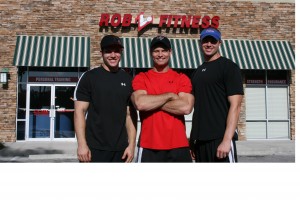 Thank you for taking the time to find out more about RobZFitness and our personal training programs. We offer personalized training programs for long-term success that are results oriented.
We are a private personal training fitness studio located in Valrico, Florida in the Lithia Crossing Shopping Plaza. With 2,400 sq ft. state of the art equipment and a proven training program that gets results!
We are your only personal training studio you should consider training at.  Stop trying to do it on your own and never getting results.  Let us show you the natural and right way to get results!  By joining, you will be given all the proven health strategies and advice you need.  My 100+ testimonial page will provide all the proof you need.  If your looking for the quick fix, the cheapest trainer or studio with inexperienced trainers…we are NOT the place for you!  We want clients like yourself who want proven results, flexible hours and a plan of action that will inspire you to get into the best shape of your life.  I have over 24 years of personal training experience and education to pass along to you.  My training staff have a combined 20 years of practice. We are your fitness training headquarters. Read Complete Story! »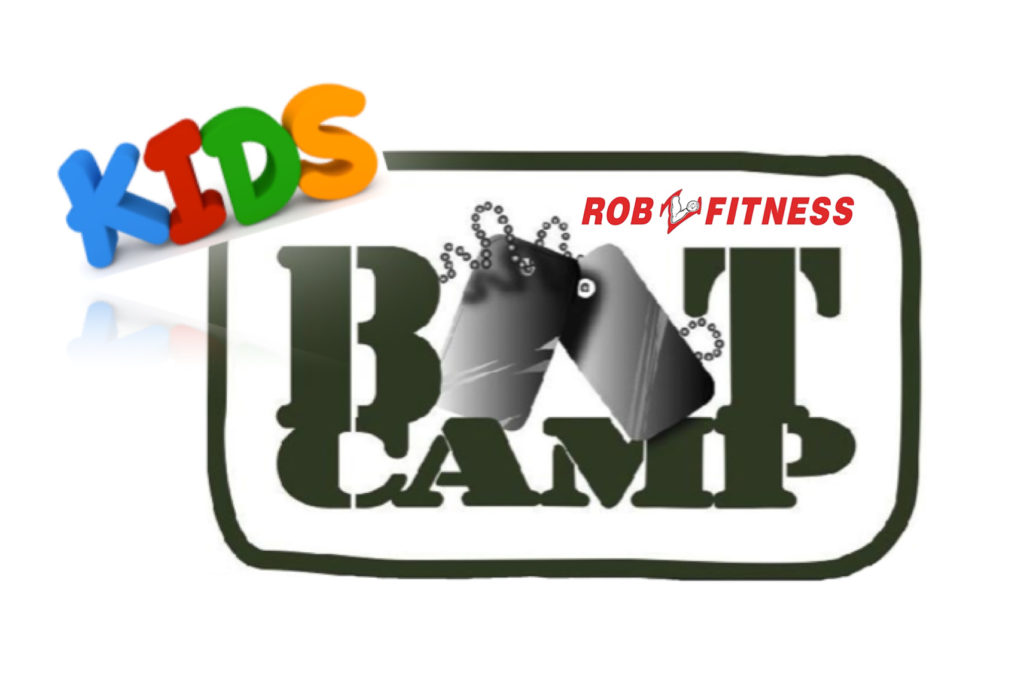 Don't let your kids sit in front of the electronics for the whole summer!
Bring them to "Kids Boot Camp"
An hour of fun fitness that will keep your children fit and active in a safe environment!
STRENGTH

*
ENDURANCE

*

HEALTHY
LIFESTYLE

*

FUN

*

FRIENDS

*

CONFIDENCE

*

TEAMWORK

June and July sessions available for boys and girls, ages 8 – 14

Tuesdays and Thursdays 4-5pm
Aerobics/Group Fitness Classes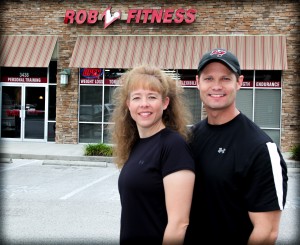 RobZFitness
has a great reputation in the community. With hundreds of testimonials, success stories and achievements of guiding local clients to find their fitness and health goals through strength training it is hard to believe that there could be even more to offer.
But with the help of his wife, Rob Zulkoski and Amy, a licensed fitness instructor herself, are ready to add even more offerings to
RobZFitness
with the addition of a new group fitness/aerobic studio inside the current personal training studio. Zulkoski opened his current personal training studio in the plaza in 2006 and now is adding on more fitness programing. The new aerobic/group fitness classes expand more ways to provide better fitness for his members.
RobZFitnessTV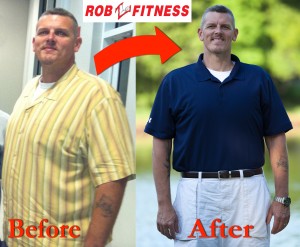 Flab Life vs Fit Life?
There's a perfectly sane explanation as to why most people say they want to be fit, and yet only a very small percentage actually are fit. Most of us, instead, are firmly cemented in the Flab Life rather than the Fit Life.
Why is this? Because the Fit Life is hard.
Want to know just how hard it is to lose the flab due to full immersion into the Fit Life? Here's a glimpse into the Habits of Being Fit:
Fit Habit #1: Exercise Daily
The truly fit among us choose to hit the gym instead of getting extra sleep, watching TV or doing whatever else it is that you'd rather be doing. Exercise is a daily habit that simply becomes a way of life, rather than a task that's begrudgingly undertaken on occasion. Those who adhere to the Fit Life incorporate challenging exercise into their lives so often that – gasp – they begin to enjoy and look forward to it!
28 Day Sexy Summer Slimdown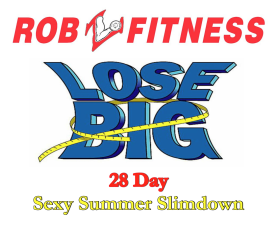 28 Day Sexy Summer Slimdown
New Challenge starts Monday, July 17 – Aug 12 Lose 8-12+ pounds in 28 Days by joining our Sexy Summer Slimdown Program and start to transform your body for a lifetime. You can guarantee to burn calories and lots of them… You can now lock in your spot right now. This training program is fast paced, strength and interval training style. Each participant is motivated in the outdoor and indoor environment to excel beyond current levels of fitness. It's proven results that brings everything together AND allows each person to be challenged beyond their fitness level and creates faster RESULTS! And I know your want FAST RESULTS right? Sign up now (below) before you forget. Spots will fill up quickly! Our three classes will start at 6:00am, 8:30am, and 7:00pm....
Fitness Tip #6

(double click picture)
Current Testimonial

Paul & Michelle Ayres
"We have realized that diets alone do not work" Like so many married couples – life got the best of us.  We were happy going about our daily activities not thinking too much about healthy eating or living.  Three kids later and in 2006 Paul was diagnosed with Hodgkin's Lymphoma sent our lives upside down. Our daily activities and concerns shifted from running errands to making multiple... Read more
Article Written by RobZFitness Trainer

The Skinny on Burning Body Fat
Pop quiz: Which would you say is more effective at reducing body fat- aerobic exercise or resistance training? If you chose aerobic exercise you would be among the 99% of the population who would fail this quiz. Let's break down the misconception. Because aerobic exercise promotes cardiovascular health,... Read Article
David Barnes - Video Testimonial
Monica Alvidrez - Video Testimonial
Bob Hendryx - Video Testimonial
Sharon Michael - Video Testimonial