.
New 28 Flat Belly Formula Bootcamp Challenge
Enrollment Form Below



.


Week of Jan 15th, 2018
Click to Enlarge Class Schedule
.
For more information on classes please email Amy at Amy@RobZFitness.com
Click below to enroll
for
28 Day Flat Belly Formula Bootcamp Challenge
.
Session #1
(Jan 2 – Jan 28)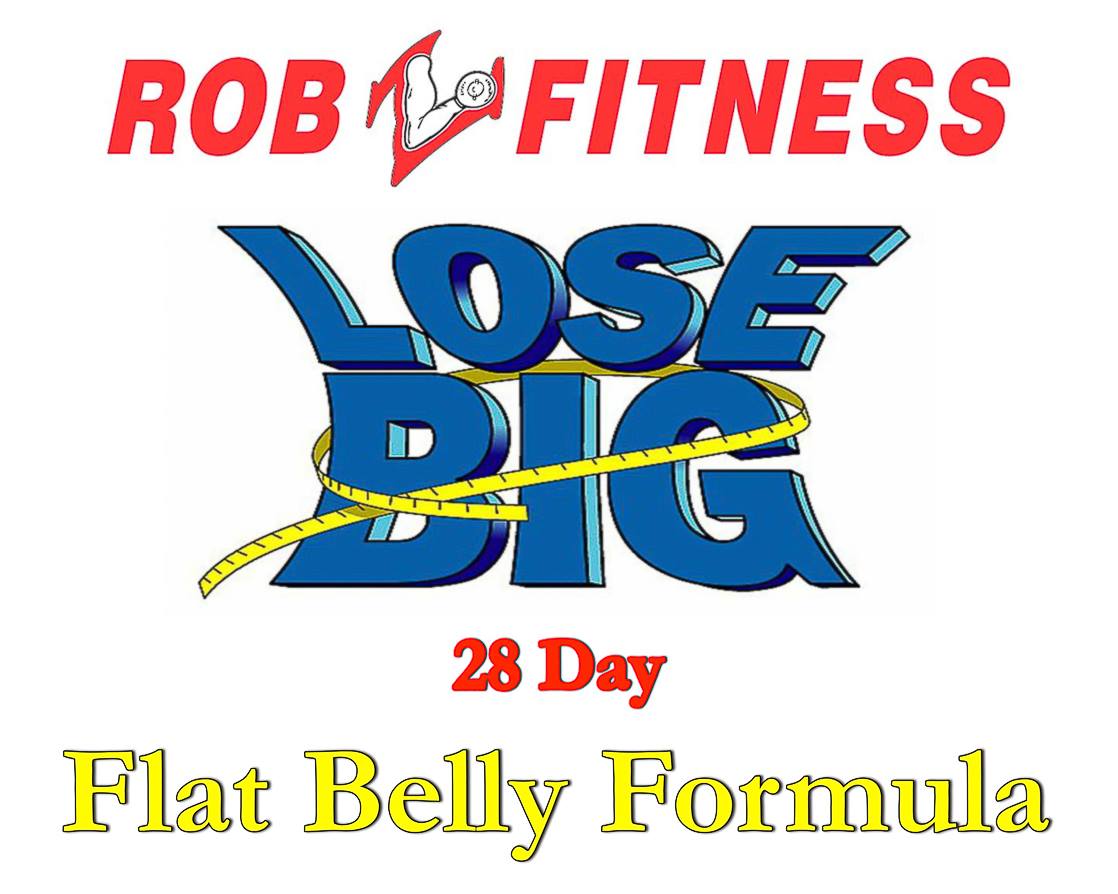 Click 28 Day Flat Belly Bootcamp picture to join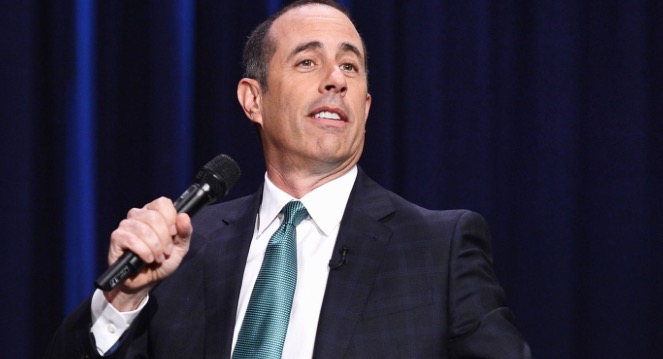 Do you ever struggle with sticking to your exercise and diet routine?
One skipped workout leads to another, and another, and another. Then, before you know it, your fitness progress grinds to a halt.
This frustrating cycle is all too common.
Many of my clients have asked for a magical tip to stick with their exercise plan, and I found the solution in an unlikely place: from the mind of Jerry Seinfeld.
The story goes like this…
A few decades ago, when he was a touring comedian and the Seinfeld show was new to TV, a young man approached him behind stage at a comedy club to ask for advice. How can I become a better comic?
He told the young comic that to become better he should write better jokes. And to write better jokes, he must write every single day.
Seinfeld went on to describe his Chain Method for staying consistent. He hangs a big calendar of a whole year on the wall. On every day that he writes, he marks that box with an X. After a few days you have a chain that continues to grow longer. Now your job is to simply never break the chain.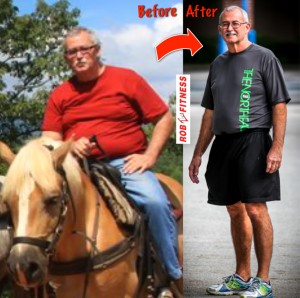 Don't break the chain!
While Seinfeld used this brilliant technique for writing jokes, we can use it for fitness. Every day that finds you in the gym gets a big, satisfying, red X. How gratifying to see your fitness chain grow on your wall calendar!
If your goal is to drop body fat and build muscle then consistency is key. Stick to your program every single day.
Build the chain; see the results.
If you aren't yet one of my prized clients then let's do something about that. Feel free to reach out to me via email at Rob@RobZFitness.com or phone (813) 571-3700 to get started on an effective exercise program.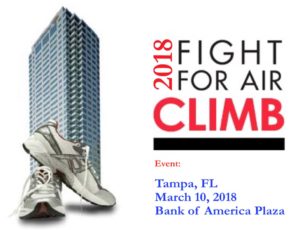 Join the RobZFitness Stair Climb Team as we compete against some of the fastest stair climbing teams around the TampaBay area to raise money for the 2018 Fight For Air Tampa American Lung Association. After a few years absence from the challenge we are coming back to compete.
Are you ready for a new challenge this year?
Looking for a different type of workout? One that will challenge and excite you?
How about challenging yourself with an event that is vertical, challenging and rewarding all at the same time. This workout will give you a great feeling of accomplishment that you will never forget.
Join me, my trainers, members and friends of RobZFitness as we race (walk) up the Bank of America building in Tampa on Saturday, March 10, 2018 for the Fight For Air Stair Climb challenge.
The American Lung Association coordinates this great event where 1,000 climbers run (walk) up the stairs every year raising money for their organization.
in 2011 we competed swept everything and placed first as the largest and fastest team (top 3 climbers in group). In 2010 we again placed first in largest team but finished second in fastest team time.
Here a few clips from years past of the fun you'll have…
(Promotion Video Trailer Clip)
(Click – 2010 Promotion video)



New Challenge starts
Monday, Jan 2 – Jan 27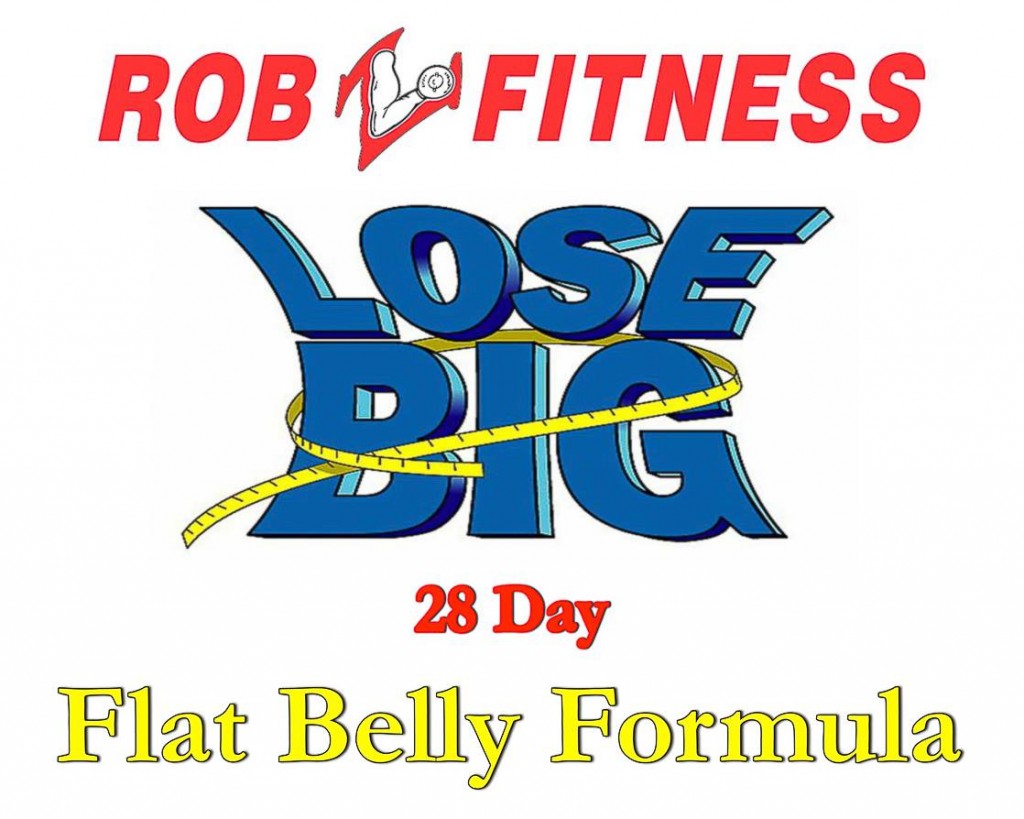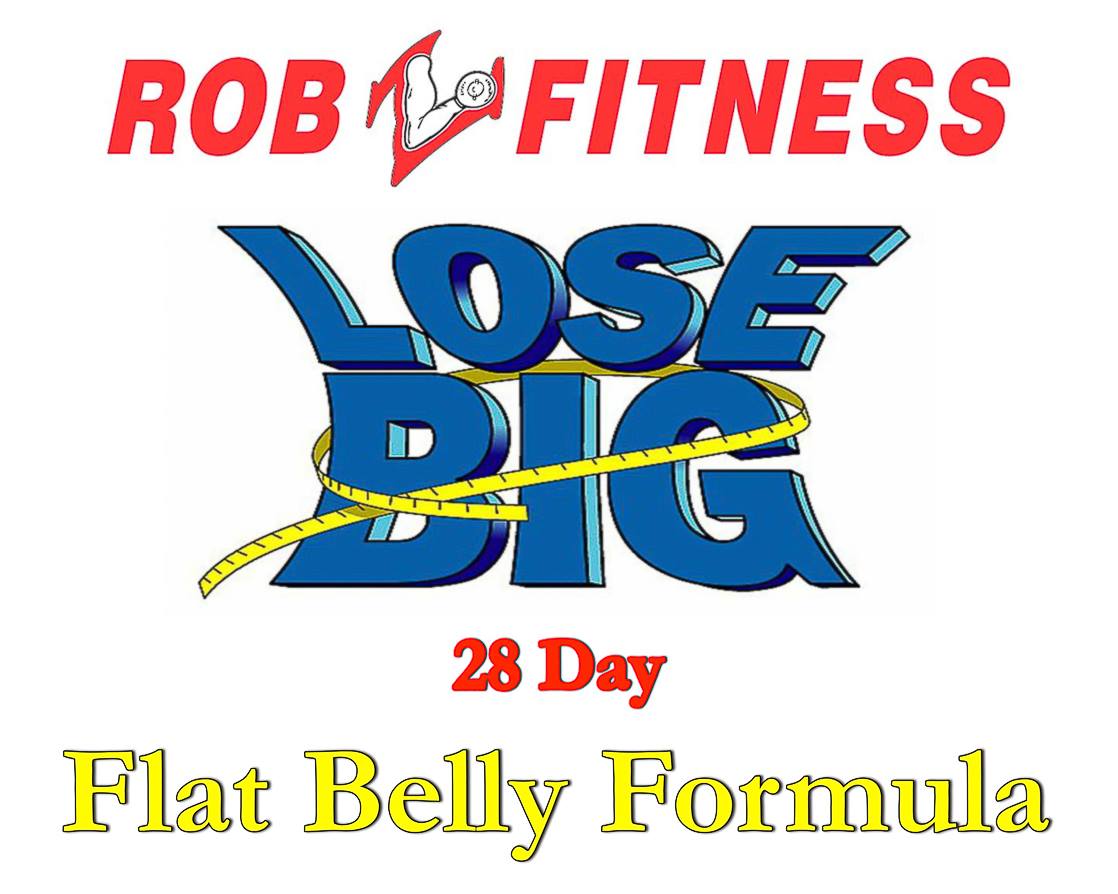 Lose 8-12+ pounds in 28 Days by joining our Flat Belly Formula Bootcamp Challenge #1 and start to transform your body for a lifetime.
You can guarantee to burn calories and lots of them…
You can now lock in your spot right now.
This training program is fast paced, strength and interval training style. Each participant is motivated in the outdoor and indoor environment to excel beyond current levels of fitness.
It's proven results that brings everything together AND allows each person to be challenged beyond their fitness level and creates faster RESULTS!
And I know your want FAST RESULTS right?
Sign up now (below) before you forget. Spots will fill up quickly!
Our three classes will start at 6:00am (Bootcamp), 8:30am (BodyPump), and 7:00pm (Bootcamp). I must also tell you that you should sign up right away after reading this to guarantee your spot.
It's pretty amazing really… Read more
The perfect gift for Christmas can have a lasting impact. If you're still looking for that perfect gift for you or a loved one buy the Gift of Health. You can purchase gift certificates online at RobZFitness. It's fast and easy! Click http://www.rob-z-fitness.com/gift-of-health/ to purchase.
Get Your Fat Pants Ready
Make it a December to Remember
Is there a family member, a friend, or even you that you would like to help get started with their fitness program? There is no better gift than good health, and no better time to start than after the holidays.
You can purchase any of these RobZFitness gift certificates online safely and securely with your credit card by using Paypal, the leader in online credit card payments.
Gift certificates can be applied towards any of our 15 personal training packages.
For NEW MEMBERS ONLY get one free training session with every month purchased.
After making your purchase online, you will receive a receipt and your gift certificate to print off.
When you give someone the gift of fitness, you are helping your friend or loved one better health both physically and mentally.
(Give the Gift of Health)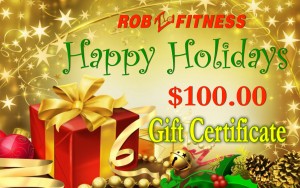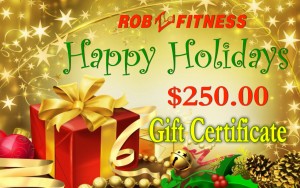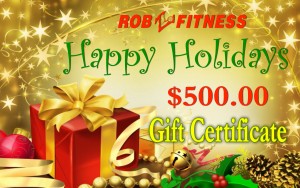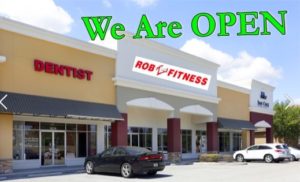 Yes, the rumors are true!
RobZFitness has moved to FishHawk
We have told our members personally and now we break the news to you.
We opened September 20th seeing all personal training clients and have started all aerobics/group fitness classes too.
Please bear with us as the studio is undergoing construction at the same time. All mirrors and carpet will be installed this weekend.
The address of our new location is 16315 FishHawk Blvd, Lithia, FL 33547 (813) 571-3700 located just to the west of Walgreens and across the street from the FishHawk sports complex.
RobZFitness is a personal training and aerobic/group fitness studio. We offer superb personalized training programs for long-term success that are results oriented.
We are increasing our square footage to 2,600 sq ft. with state of the art fitness equipment and a proven training program that gets results!
We are your ONLY personal training studio you should consider training at.
Stop trying to do it on your own and never getting results. Let us show you the natural and right way to get results!
My 100+ testimonial page at www.RobZFitness.com will provide all the proof you need. By joining, you will be given all the proven health strategies and advice you need.
If you are looking for the quick fix, the cheapest trainer or studio with inexperienced trainers…we are NOT the place for you! We want clients like yourself who want proven results, flexible hours and a plan of action that will inspire you to get into the best shape of your life.
I have over 26 years of personal training experience and education to pass along to you. My training staff have a combined 33 years of practice. We are your fitness training headquarters.
** ALL NEW MEMBERS ** who join up for personal training three months or longer will be given a 11% off discount celebrating our 11 years in business at our past location if you sign up by October 31, 2017. Read more
(813) 571-3700
16315 FishHawk Blvd, Lithia, Florida 33547
You know that diet and exercise are important when it comes to creating your best body, but you may be overlooking other techniques for getting into the best shape.
Turn the following 13 simple tips into habits and watch as your body transforms.
1) Eat a Smart Breakfast.
Most people load up on carbohydrates and simple sugars for breakfast. Cereal, pastries, smoothies and juice are all poor choices when it comes to starting your day off right. Center your breakfast around protein and healthy fat, and you'll have energy for hours. Try a protein shake, eggs, lean breakfast meat, or a handful of nuts.
2) Get More Sleep.
If you're not getting at least 8 hours of sleep each night then you could use more sleep. This is especially true if you've reached a plateau with weight loss. Give your body the 8 hours of sleep each night and make weight loss easier.
3) Just Do It.
If you're really ready to achieve your best body ever, then dig down deep and commit. As Woody Allen famously said, "80% of success is showing up." This is absolutely true when it comes to fitness. Show up to your workout. Even if you're tired. Even if you'd rather be doing something else. Just do it.
4) Plan Ahead.
Take one day each week to plan your healthy meals for the following week. You don't have to do all the shopping and cooking on that day, simply jot down what you plan to eat. This small act of planning ahead will keep you on track with healthy meals even when the week gets crazy busy.
5) Cut Out Gluten.
Many people don't realize that they have a certain level of sensitivity to gluten, which causes intestinal inflammation and bloating. Also, gluten-filled foods are typically high in carbohydrates, which contribute to weight gain. When you cut gluten-filled items from your diet don't fall into the trap of simply replacing those items with other high-carb items. Choose non-packaged, whole foods instead.
6) Believe In Yourself.
Do you believe that you have what it takes to transform your body? If you want to succeed in weight loss then you have to believe that it's possible. Give yourself a pep talk and dig down deep for the courage and discipline to apply these healthy changes to your life.
7) Eat Less Dairy.
Dairy products like cheese or cream add extra fat and calories to your meals. Pass on the dairy and you'll eliminate unnecessary calories, making weight loss quicker.
8) Sleep and Wake at the Same Time.
This tip sounds so simple, and yet it's a powerful way to increase your daily energy. Get your body on a schedule and watch how much more productive and energetic you become.
9) Include Veggies at Every Meal.
Most people aren't too crazy about vegetables, and probably eat less than they should. Make it a point to include a vegetable with each of your meals – even breakfast. The increase in fiber and other nutrients will give your body that extra boost that you're looking for.
10) Ditch Packaged Food.
Throw out those packaged foods! This is one of the easiest things you can do to achieve quicker weight loss results. Packaged foods contain chemicals and additives that will slow your fitness results.
11) Drink More Water.
Being hydrated is key when it comes to creating your best body. Drink water throughout your day and limit caffeinated beverages to once daily.
12) Forget Artificial Sweeteners.
Sure, these sweeteners don't contain calories, but they are known to increase your appetite and cravings for carbohydrates. In the quest for your best body, put down the diet soda and reach instead for some water.
13) Exercise With a Pro.
Are you exercising as efficiently as possible? Do you challenge your muscles enough during each workout? Are you keeping the routine new and fresh? These are all factors that will be taken care of for you when you work with a trained fitness professional. Working with a pro ensures that you make the most of your exercise time.
So there you have it, 13 tips that will take your results up a notch.
If you haven't joined one of my programs yet, now is a great time to start. Together we will get you focused on your goals with my results-driven method.
Call me at (813) 571-3700 or email Rob@RobZFitness.com today to set up your first workout.
New Back to School Meltdown Starts
(Sept 25 – Oct 21)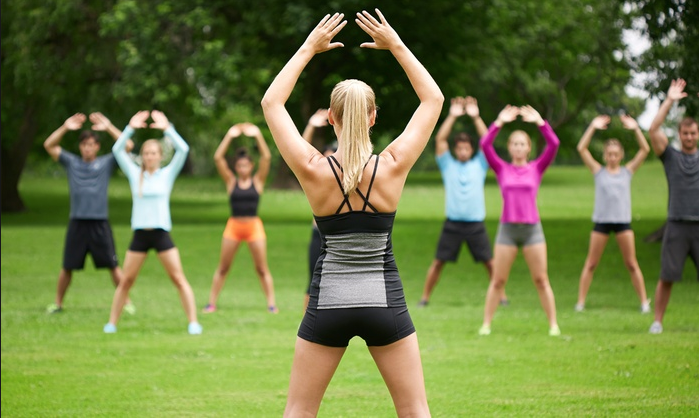 Lose up to 10+ pounds in 28 Days by joining our Back to School Meltdown Challenge #2 at RobZFitness (new location) and start to transform your body for a lifetime.
You can guarantee to burn calories and lots of them…
This training program is fast paced, strength and interval training style. Each participant is motivated in the outdoor and indoor environment to excel beyond current levels of fitness.
It's proven results that brings everything together AND allows each person to be challenged beyond their fitness level and creates faster RESULTS!
And I know your want FAST RESULTS right?
Sign up now (below) before you forget. Spots will fill up quickly!
Our three classes will start at 6:00am, 8:30am, and 7:00pm. I must also tell you that you should sign up right away after reading this to guarantee your spot.
Sign-up Now (Sept 25 – Oct 21)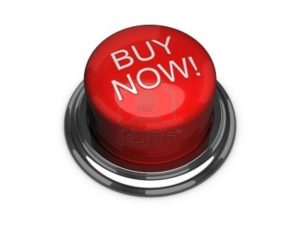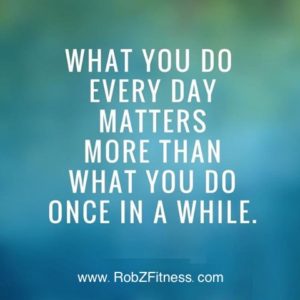 You aren't consistent.
Ouch, yes that might hurt, but you know it's true. One week you start eating healthy and exercising daily, but then by day 4 you've found a myriad of reasons to quit. A few weeks go by, a few pound creep on, and then you give it another try…for 8 days this time before you quit. And the frustrating cycle continues.
The stunning body transformation that you want will only come by changing your lifestyle as it relates to how you eat and how you exercise. Half-hearted attempts to change will only result in half-hearted results.
Fully commit yourself to the process of transforming your body. Jump in with both feet and don't look back!
Aerobics/Group Fitness Classes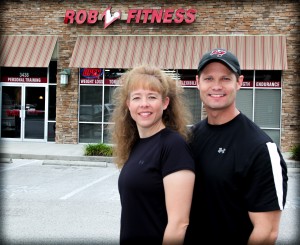 This Is Why You Are Not Fit.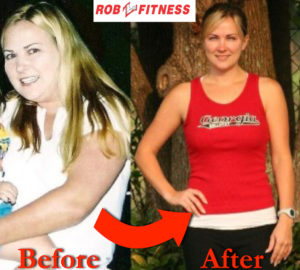 You want to be fit. You know how much you should weigh. You know your ideal pant size. You can even picture how great those skinny jeans will look.
So why aren't you living life in your ideal body?
There are many complex reasons that make weight loss a challenge, reasons that go deeper than simply calories-in versus calories-out. I'm talking about the life issues that get in the way of your success.
Read the following 5 obstacles and the solutions to unlock your best body ever.

1. You don't want to be bothered.
It's in your DNA to avoid pain and seek out pleasure. Unfortunately this works against you when trying to get fit. In your mind, it's painful (or at least uncomfortable) to deny yourself the tasty food that you crave and to exert yourself with exercise.
There's a simple way to work around this obstacle: Find something painful about being out of shape to motivate yourself towards healthy eating and exercise. Focus on the negative impact your current weight has on your health, self-esteem and lifestyle. Convince yourself that the pain of being out of shape is much greater than the discomfort of losing weight.
2. You don't want to wait for the good stuff.
Just as you wish to avoid pain, you are also an expert in seeking out pleasure—namely food. This served the cavemen well, but these days it ends up as extra pounds around your waist and thighs.
There's good news: extra calories are not your only option to stimulate the pleasure center of your brain. Find an activity or two that make you smile and indulge in those regularly.
A walk outside
A good book
A night out to the movies or theater
A spa day
You can also retrain your brain to crave the pleasure of exercise-induced endorphins. Talk about weight gain kryptonite!
3. You are crazy busy.
Let's face it, you work too much, commit yourself to too much and don't even get enough sleep most of the time. The fast-paced way you live leaves you exhausted, stressed and hungry for comfort food. You even begin to feel too busy to take care of your health.
It's time to reprioritize. Let go of your perfectionist standards and remove a few commitments from your schedule so that you are able to cook healthy meals, exercise and get a good night's sleep. Remind yourself that taking care of your health is not a luxury—it's a necessity.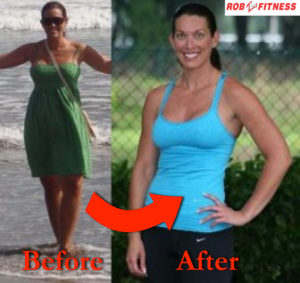 4. You don't deserve it.
I don't agree with it, but you sure act like you don't deserve to live the good life in the body of your dreams. Take a moment to think back on all the times you have self-sabotaged your weight loss efforts. If you don't believe deep down that you are worthy then you'll never give yourself a chance at a fit body.
I believe that you deserve to have a healthy body—and I urge you to dig deep down to uncover why you don't. Once you conquer your feelings of unworthiness, getting on an exercise and healthy eating plan will be easy.
Take the time to take care of yourself. You DO deserve it.
5. You are afraid.
You're afraid to start because you just might fail, and wouldn't that be embarrassing? You're also afraid to start because you just might succeed, and change makes you uncomfortable – even if it's change in the right direction.
When you decide to get fit you will need to go through a bushel of changes:
New diet
New exercise routine
New friends at the gym
New clothes
New self-image
Focus on all of the ways that losing weight will make your life better. Envision that better life everyday so that it goes from being new and scary to familiar and comfortable.
I want to personally help overcome every obstacle standing between you and your ideal body. Call (813) 571-3700 or email Rob@RobZFitness.com today to get started on a program that will change your life and body forever…in a good way 🙂
Meeting Your Fitness Goals
Do you have unmet goals?
You aren't alone. In fact, most of us live with unfulfilled aspirations, which is why the self-help industry is booming.
Unfortunately, many widely used self-help techniques fail to deliver results.
Case in point: You've probably heard of the "Yale Goal Study" where researchers were said to have interviewed the graduating Yale seniors in 1953, asking whether or not the students had written down specific goals that they wanted to achieve. Then twenty years down the road the researchers looked up each student and discovered that the 3% of the class who had written down their goals had accumulated more personal wealth than the other 97% combined.
Very compelling story, but complete fiction.
The "Yale Goal Study" never happened, though motivational speakers and self-help books have quoted it for years.
Best selling author and psychologist Richard Wiseman went on a mission to craft a no-nonsense response to the bogus self-help techniques. Using a diverse range of scientific data he uncovered a proven approach to achieve any goal
The following 5 successful techniques (Do This) and 5 unsuccessful techniques (Not That) are from Wiseman's book, 59 Seconds Change Your Life in Under a Minute.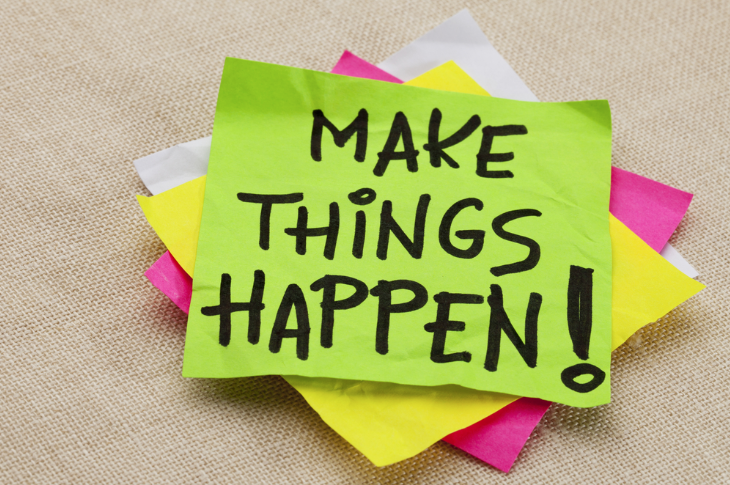 Do This: Make a Step-by-Step Plan.
If you are serious about achieving your goal, then you need to create a step-by-step plan on how to do it.
Successful goal-achievers break down their overall goal into sub-goals. Each sub-goal needs to be concrete, measurable and time-based.
Not That: Motivate yourself by focusing on someone that you admire.
Studies show that focusing on someone you admire is not a strong enough motivator to see you through your goal.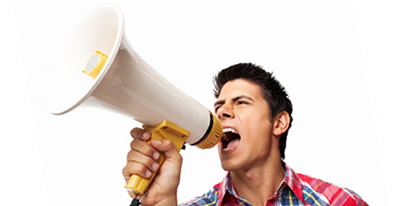 Do This: Tell Other People About Your Goal.
How badly do you want to achieve your goal? If you want it bad enough, you'll tell your friends and family.
This technique works on two levels. First, you've put yourself on the spot by letting the world in on your goal, so it's all-eyes-on-you. Failure would be public. Second, your friends and family are there to offer support and encouragement. Don't underestimate the psychological power of having someone in your corner.
Not That: Think about the bad things.
When you focus on the negative it becomes your reality.
Do This: Focus on the Good Things When Achieving Your Goal.
Remind yourself of the benefits associated with achieving your goal.
Make a checklist of how life will be better once you have achieved your aim. This gets your focus on a positive future, one that's worth the effort.
Not That: Try to suppress unhelpful thoughts.
Rather than trying to erase that image of chocolate cake from your mind, learn to deal with the reality of temptation head-on.
Do This: Reward Your Progress.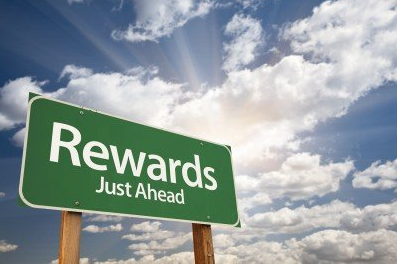 Studies show that attaching rewards to each of your sub-goals encourages success.
Your rewards should never conflict with your major goal. When aiming to lose weight, never use food as a reward.
Not That: Rely on willpower.
Willpower alone rarely gets anyone to their goal.
Do This: Record Your Progress.
Make your plans, progress, benefits and rewards concrete by expressing them in writing.
Use a hand-written journal, your computer or a bulletin board to chart your progress. This process is priceless for maintaining motivation.
Not That: Fantasize about life after achieving your goal.
Daydreaming is fun, but simply fantasizing about your new life will not make it a reality.
Are you ready to achieve your fitness and weight loss goal once and for all? Call (813) 571-3700 or email me at Rob@RobZFitness.com now to get started on the process that will put an end to your yo-yo dieting and your fat jeans.
Now is your time to get into the best shape of your life.
.
.
Call (813) 571-3700
.
.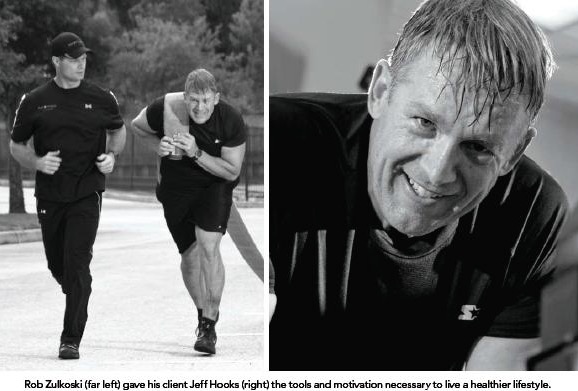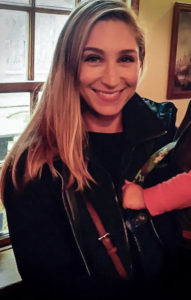 We are happy to introduce McKenzie Morris to our fitness team as a morning bootcamp instructor at RobZFitness.
Mackenzie was raised in Valrico where she graduated from Durant High School, then the University of South Florida where she cheered all four years.
She has been a personal trainer since 2011, previously teaching boot camps and training individual clients.
Previously a teacher at Newsome high school where she was the head cheer coach and sponsor for the Fellowship of Christian Athletes.
Married to Will Morris and mother to one year old boy.
They attend Access Church.
In addition to spending time with her family, Mackenzie enjoys being outdoors and traveling.
Weight loss is often a frustrating pursuit, eluding even those who eat healthy and exercise. So what gives? Why won't the scale budge even as you put out tremendous effort?
Read on for the 7 reasons that most fitness and health food lovers don't lose the pounds that they want to…
1. You Don't Sleep Enough
Let's start with the most rampant problem standing in the way of your fat loss. Most adults simply do not get adequate sleep to support weight loss. There is a scientific reason for this, and it has everything to do with hormone levels. While you sleep your cortisol levels decline while your growth hormone levels increase. This balance is essential for fat loss to occur.
So skipping on Zzzz's will throw your hormones into fat storing mode, while simultaneously causing you to feel hungrier and encouraging you to eat more calories.
2. You Eat TOO MUCH Healthy Food
Yes, my friend, there is such thing as TOO MUCH healthy food. When it comes to weight gain, extra calories can come from just about anywhere before landing on your waistline – even from healthy foods. Sure, it will take you longer to gain weight by overeating roasted chicken and sweet potato than it would ice cream and chips, but the extra pounds will still add up.
Control your portions, even of healthy foods, in order to make strides in your body transformation journey.
3. You Don't Drink Enough Water
Most of us are walking around in a state of partial dehydration everyday. In addition to being dangerous for all of your major body organs, dehydration is perilous for fat loss. Not only does water serve as an appetite suppressant to fill your stomach and prevent you from overeating, thirst is often mistaken for hunger pains, leading to extra calories consumed and stored as fat.
By sipping on water throughout the day you'll avoid dehydration and will find it easier to move the number on your scale in a favorable direction.
4. You Eat Out Too Much
Restaurant meals are higher in calories than meals prepared and eaten at home – across the board. There is simply no way around it, and even if you consciously attempted to eat small portions while eating out it would be quite difficult to do. Restaurant food is created with consumer satisfaction in mind, and this means adding fats and sugars and salt to many of the menu items in order to produce the tastiest food possible! Unfortunately the tastiest is also quite often the most fattening.
Want more fat loss? Make simple, wholesome meals at home and eat with portion control.
5. You Don't Get Enough Protein or Fiber
Protein and fiber are the golden tickets to fat loss, but sadly your diet doesn't contain nearly enough of it. It's natural to enjoy the flavors of sugar, fat and carbs more than protein and fiber, and that's why your diet is filled with more of these than it should be. While sugar, fat and carbs taste better than protein and fiber, these lead to dreaded weight gain.
Consciously plan your meals around a base of protein and fiber, and then add in just enough complex carbs and healthy fats to keep it well rounded. Save the bulk of your sugar, fat and simple carb consumption for planned cheat meals in order to prevent ongoing weight gain.
6. Your Diet is Filled with Packaged Foods
I'm not talking about cookies and candies, because you know better than that. I'm talking about packaged protein bars, granola, crackers, rice cakes, protein cookies, and the plethora of packaged health foods that you have stashes of. Sure, these packaged foods may be healthier than snacks from a vending machine, but in the grand scheme of your fat loss, the fewer packaged items the better when it comes to shedding pounds. Even the healthiest of packaged foods contain ingredients that are modified or processed, in order to preserve the shelf life, and these ingredients have a negative impact on your waistline.
Real, natural and whole always beats packaged. Take inventory of your daily diet and eliminate the packaged foods so that it's no longer an everyday occurrence.
7. Your Workouts are Too Easy
Going through the motions at the gym simply doesn't cut it when you want to transform your body. Most people want to stay as comfortable as possible at all times, and this usually means treading lightly through their workout, rather than going all in. And while putting your body through the motions of exercise is better than sitting on the couch, it certainly won't result in a sculpted body.
Rate your perceived exertion in your last workout from 1 to 10. If it falls below an 8 then your workout is in need of a serious revamp. I can help you with that! Call (813) 571-3700 or email Rob@RobZFitness.com today to get started on my fat blasting exercise program.
I'm here to help you achieve the body of your dreams. Don't let another month pass you by – take action by calling or emailing me now to get started!