It Doesn't Matter What The Scale Says!
Colleen Pounds,
Physical Therapist Assistant
Weight Scales lie!
My victory can be seen but not weighed, and it feels good.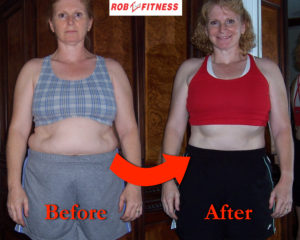 Before RobZFitness, like so many others, I habitually stepped on the scale. My Personal Trainer immediately began drilling into my head to "Stay off of the scale", explaining that it often gives false impressions of what really happens, which leaves people feeling defeated and depressed. Through the Education component of the RobZFitness program I learned that the only reason scale-weight is needed is to help calculate one's Fat-to-Muscle Mass ratio. Herein lay my victory.
If I were to tell you that from May to September I lost 13.5 pounds, you might not be impressed? However, here is the big picture. Within these four months, I lost 29 lbs of body fat, gained 15.5 lbs of lean muscle mass, dropped from a size 16 to 10 and decreased my body fat from 37% to 22%! This is what I actually achieved with the in-depth education of fitness and nutrition given to me at RobZFitness.
I feel very confident that I now have the tools to maintain my results, my strength and my nutritional habits for a lifetime.
Thanks gang!
"I Lost 56lbs, 13% BF, 7″ in Waist"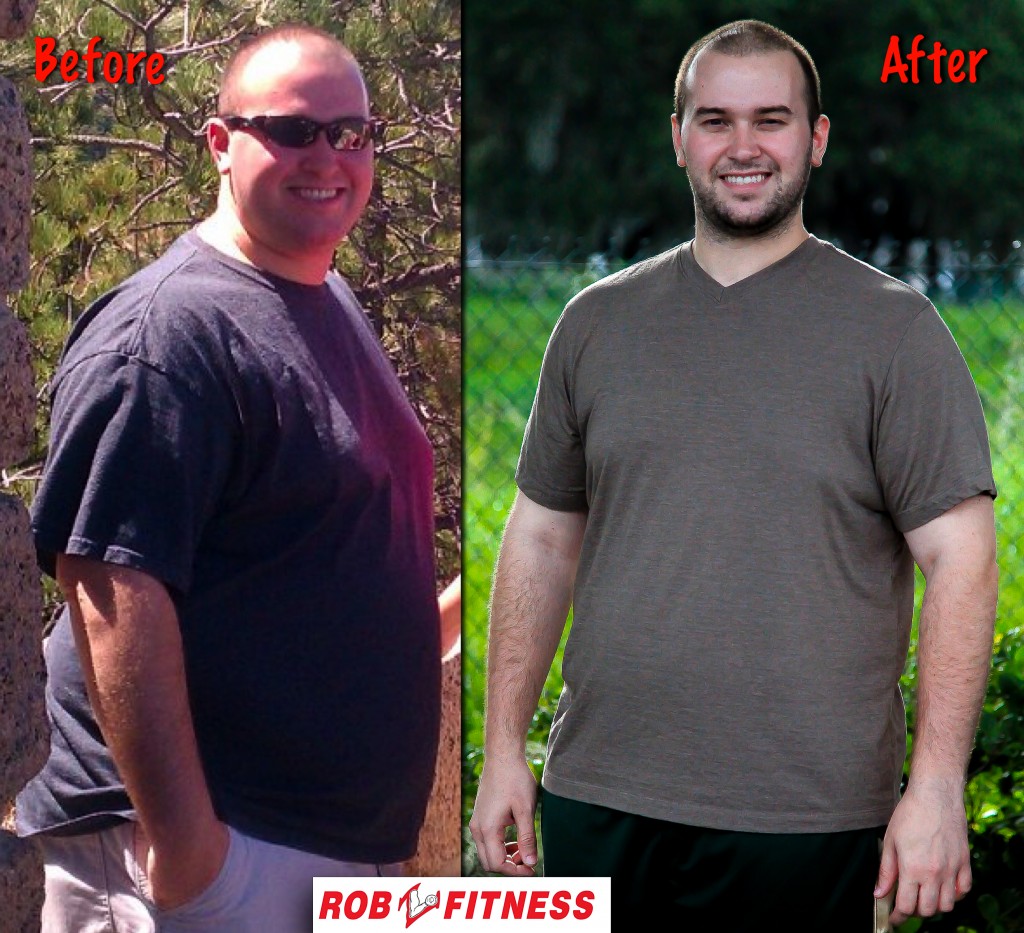 Ever since I was a child I have always had a goal in mind of becoming an Air Force pilot, but at 350 pounds and size 48 pants I knew that I was a long way away from that goal. I attempted losing the weight on my own but after reaching 325 pounds I noticed that my weight was no longer going down like I had wanted.
I heard from a friend about her colleague's great success at RobZFitness and I decided to give them a call to see what they could offer me. I was never looking for a quick solution to reach my goal. I wanted to work for it because I knew at that point that I needed help to get where I wanted to be. A quick phone call later and I was set up for my fitness evaluation with Rob. Through the course of his evaluation I began to realize where I was on the fitness level for men at my age and where I needed to be for my goal were a lot farther apart than I had thought. Within a week I began training at RobZFitness and I have never regretted that decision. Even over the course of a few months Taylor, my trainer, was able to find new ways to force me and my body to continue on the right path towards better overall health.
My trip to better health is not yet over, but with the help of all the trainers at RobZFitness I am much closer to it. So far over the course of six months I can tell that I am already in better shape than I was in high school, and probably the best shape of my life this far. So far I have lost 56 pounds, lost 13.4% body fat and lost 7.5 inches around my chest, 7 inches around my waistline and 4 inches around my thigh. Already through my short time at RobZFitness I have been able to accomplish great things and one of my favorites is not having to pay extra for the plus size clothes. Before too much longer I will finally be able to purchase pant sizes in the 30's and I have RobZFitness to thank for that.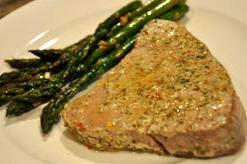 Ahi tuna is high in protein and low in fat, the perfect combination for building a lean, toned body. Add a side of roasted asparagus for a delicious healthy meal.
Servings: 4
Here's what you need:
1 Tablespoon olive oil
1/4 cup lemon juice
4 cloves garlic, minced
1 teaspoon red chili flakes
2 Tablespoons cilantro, minced
dash of salt and pepper
4 (6oz) ahi tuna steaks
In a large re-sealable plastic bag combine the first six ingredients; mix well.
Add tuna to the marinade, cover and refrigerate for 1-1/2 hours, turning once. Drain and discard marinade. Preheat oven to 425 degrees F.
Place the tuna in a glass pan. Bake for 10 minutes. Turn the steaks and bake for another 10 minutes or until fish flakes easily with a fork.
Nutritional Analysis: One serving equals: 247 calories, 5g fat, .6g carbohydrate, .2g fiber, and 50g protein.
Oh the dreaded plateau…
You've been working hard on your fitness game and it paid off. The pounds started to drop! And then one day your results stopped. You keep putting in the same effort without any sign of improvement.
You've hit a frustrating plateau.
Or have you? Before you blame a fitness plateau for your lack of results let's critically consider the following:
If your results have stopped then take the next few weeks to track your nutrition and hold yourself accountable for every bite.
Did you skip a few sessions last week? Before you blame a plateau for your reduced results take a really hard look at your effort in the gym.
Rededicate yourself to pushing as hard as you can.
Getting to bed on time is vitally important to your fitness results.
If you have tackled the three steps above and still don't see the number on your scale moving in the right direction, then move on to these next plateau-busting steps…
Make it your goal to outdo yourself every day.
If you're constantly performing better today than you were yesterday, then your plateau will quickly become a distant memory.
Have your bodyfat tested. You can always call us and we will take them for FREE.
Take pictures of yourself weekly. It's important to be fully aware of how your body is changing as a whole unit, not just the number on the scale. You may be surprised to find that your body fat has been dropping while your weight has stayed the same.
See me for additional strategies on breaking through your fitness plateau.
Together we will get you on a program that will melt fat and expose shape and definition.
Together we will get you into your best shape yet!
Exercise Makes You Feel Better
You're Getting What You Put In
Have you ever noticed how two people can do the exact same fitness routine for a period of time and one will have breathtaking results while the other looks the same as when they started?
Why is that?
It's frustrating when you are the person going through a fitness routine without seeing dramatic results. Might make you look for a reason outside of yourself to blame, such as genetics.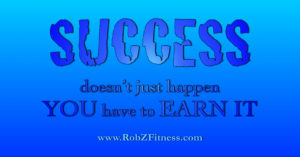 In reality, the thing holding you back is something that you have complete control over: it's the intensity with which you exercise.
Intensity is something that's difficult for the outside observer to measure but is felt within your body as you go through the motions of an exercise.
It's how hard you push yourself to go as heavy and as quickly as possible.
It's picking up a weight that feels hard to handle.
It's putting a boost behind each stride as you run.
It's resisting the urge to simply go through the motions.
It's outdoing your efforts from last time.
Now I understand the urge to put out token effort in your workout, going through the motions while cutting corners along the way. We all have days when the weights feel extra heavy and our energy stores feel depleted, and those days will naturally be less intense.
However, when low intensity workouts are your norm, you simply won't ever achieve the results that you're hoping for. And this is something that you completely control.
So, as you go into your next workout, think about the intensity that you're bringing. Are you pushing yourself with each rep? Could you go heavier? Could you be faster?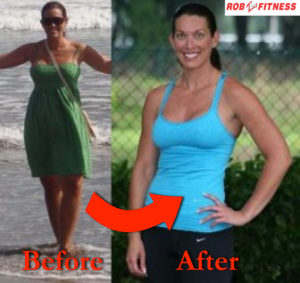 Fight the urge to be comfortable while you exercise. There's plenty of time throughout your day to feel comfortable, just not while you're working out.
Does this make sense?
Attack your next workout with 100% intensity and set a new standard for yourself to continuously push to become stronger, faster, leaner and more fit.
You've got this!
And if you're not yet one of my awesome clients then call (813) 571-3700 or email Rob@RobZFitness.com today set up your free fitness evaluation to join the family. Together we will get you into your best shape yet!
Here's a salad recipe that serves as an entire meal. It's filled with fresh ingredients that increase your fiber count for the day. The simple dressing tastes fantastic. Add a grilled chicken breast to increase the protein in the dish and enjoy leftover for lunch the next day. Enjoy!
What you need: Serves 8
For the Dressing:
2 tablespoons red wine vinegar
1 teaspoon garlic, minced
½ teaspoon Dried Oregano
½ teaspoon sea salt
¼ teaspoon black pepper
¼ cup olive oil
1 Tablespoon lemon juice
For the Salad:
8 cups Baby Arugula
1 cup cooked quinoa
1 can (15 oz.) chickpeas, drained and rinsed
1 heirloom tomato, finely chopped
½ cup celery, minced
¼ cup fresh scallions, thinly sliced
¼ cup fresh basil, thinly sliced
Instructions
1. Combine the dressing ingredients in a jar. Close the lid and shake until fully combined.
2. Combine the salad ingredients in a large salad bowl. Toss with the dressing and serve immediately. Enjoy!
Nutrition
One serving equals 196 calories, 8g fat, 25g carbohydrate, 262mg sodium, 1g sugar, 4g fiber, and 7g protein.
The POWER of Habit
It's pretty clear that the habits you adopt will shape who you are.
What are your habits?
Do you eat the same thing for lunch, go through the same exercise routine, and fall into bed at the same time each night?
Or maybe you've made a habit out of eating something sweet before bed, avoiding the gym, and staying up as late as possible.
When it comes to your fitness, the two habits that define you are your eating and exercise habits. In fact, everyone that you know who is in great shape has dialed in these two important habits.
If you aren't happy with your body, then simply adjust your eating and exercise habits.
Here's how to adopt a habit:
Here are some healthy habit ideas:
Here are some healthy habit ideas:
Do not eat after 7pm each night.
Bring your lunch to work instead of eating fast food.
Exercise 4 times a week after work for 45 minutes each time.
Only eat fruits and veggies as your afternoon snack.
Get up early and exercise for an hour each morning.
Workout with me 3 times a week.
Here's an example:
My new habit is to work with a personal trainer 3 times each week.
My 3 main motivators are 1) to feel confident in my bathing suit this summer, 2) to have more energy, and 3) to fit into my skinny jeans.
The obstacles I will face are 1) not having the energy to go to my session after work, 2) not having enough money to pay for sessions, and 3) not having my spouse's support.
I will overcome these obstacles by 1) doing my workouts before work instead of after work, so I have more energy, 2) cutting down on frivolous spending to ensure that I can afford it, and 3) asking my spouse to join me so we can get in shape together.
Once your new habit becomes second nature, usually in about 30 days, feel free to add a second habit by going through the same steps.
It's Grill Time
Looking for something delicous to grill that won't derail your weight loss goals?
Look no further than the produce and meat section.
Use beaf, poultry and a variety of veggies on you kebabs
Onions, bell peppers, eggplant, carrots, asparagas and zuccini are all great options to throw on the grill along with your protein – and they can all be eaten guilt free.
Have a great rest of the week!
Rob Zulkoski
Once in a while you are going to have a bad week. Your nutrition will be off, your workouts will be weak, and your head will not be in the game.
That's OK.
Remember that you are human, and that sometimes your body needs a little break. The key is to take care of yourself in that moment, to not let yourself stray too far off your fitness plan during the time of rest, and to then get yourself back on track this next week.
Many people allow a bad week to spiral into a bad month, or even a bad year. My hope for you is that you're able to give yourself time to rest and then quickly get back to your program in full force, rested and ready to get at it!
Let's kick off this coming week right.
I believe in you!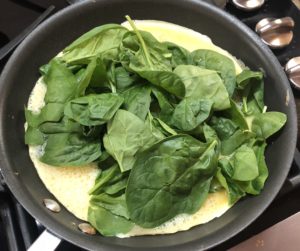 Egg Omelette
Prepared a few omelettes for the next couple of days. After cooking cut in half.
Ingredients for whole omelette:
– 10 egg whites (4 yolks)
– 2 tablespoons of onion
– 2 tablespoons of diced mushroom
– 2 handfuls of spinach
– 1/8 cup of fat free cheddar cheese
– Black pepper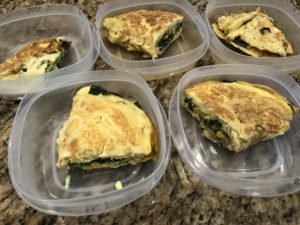 Remember What Others Have Done For You
This is Wil Ayres (18 yrs old) and he has trained at RobZFitness for the past month and is down 11 pounds already on the scale. But we all know the scale isn't the REAL indication of success. Wil has actually lost 13.5lbs of actually body fat and increased his lean weight tissue by 2.5lbs and his clothes are already fitting so much better. In fact, Wil is down 1.58″ in his chest, .38″ in his arms, 1.5″ around his hips, 1.75″ around his waist and down 1.00″ at his thighs.
Overall Wil is down 5.3% body fat which is pretty amazing since our clients averages are usually between 3-5% per month. Not bad for such a young guy.
Wil has worked out extremely hard during his first month and I have to give him a ton of credit for working out very consistently. Not everybody will put in that effort but the ones who do get better results. You have to eat well and train hard both with weights and cardio.
We can help you get started and get results like Wil but I need for you to call me at (813) 571-3700 or drop me an email at Rob@RobZFitness.com. Let us help you set up your fitness plan with us.
Call today and set your FREE FITNESS EVALUATION first to get started.
After 5 months of training at RobZFitness Weaver Jones has lost 51 pounds of scale weight and lost 14% body fat. Weighing 277 pounds the day after Christmas 2017 Weaver is now down to 226 pounds.
He has lost 7.25″ in his upper body, 1/2″ in his arms, down 5.58″ in his hips, down 5.38″ in his waistline, down 3.00″ in his thighs and down 1.00″ in his calf. Weaver's body fat ranking has also improved from 1% to 32%.
He is projected to be in better shape than 75% of men at his age in two more months. Can't wait to see this guy by the end of summer.
Besides feeling better and having more energy his blood pressure is much improved and is no longer taking any more medications. Now he has to worry about is buying new clothes.
If you're interested in seeing results like Weaver you need to join us at RobZFitness. Call us at (813) 571-3700 or drop us an email at Rob@RobZFitness.com.