Healing Your Body
You are in control of and have total responsibility for your own health. The things you do, the things you eat, the drugs you take, the amount of exercise you get and the way you manage (or don't manage) your stress all affect your health. You may not have control over everything, but it is your choice whether you enhance your body's ability to be healthy or hinder it. The human body is a magnificent self-healing and regulating organism! This concept is unquestionably true but has been pushed aside by the thousands of messages you receive each day via the television, newspaper and magazines professing that your body needs drugs to help it heal. DON'T LISTEN TO THIS PROPAGANDA.

There are always going to be times when medications are going to help your body heal or function, but the key word is help. Please understand that your body heals from the inside out, not the outside in. This means that your body has an Innate (inborn) Intelligence that tells it how many breaths you need to take each minute, how many times your heart should pump, how your body should process nutrients, how to fight off bacteria and viruses and how to heal damaged cells, just to name a few. This innate intelligence or 'wisdom of the body' is what directs the healing. The healthy choices you make, including getting regular chiropractic care, eating right, & exercising all contribute to providing enough resources for your body to heal itself, as well as build and maintain muscle. On the other hand, being under high levels of stress, ingesting toxins (drugs and other toxic chemicals), having poor sleep, nutrition and exercise habits inhibit your body's ability to heal.
Your health is a gift that is to be cherished and maintained. It is not something to be taken for granted. There are no 'magic pills' and 'quick fixes'. Don't focus on 'Outside In' healing. It is short term and the side effects can be terrible. Concentrate on 'Inside Out' healing. Enhance your body's natural healing abilities. Support your body's healing efforts and the results will be long-lasting. Health is defined as 'Optimal physical, mental and social wellbeing, not merely the absence of disease or infirmity.' Good health is a lifestyle. It requires effort but the rewards derived are priceless and include: living longer, living more comfortably with the ability to do all the things you love and want to do; having enhanced energy; having enhanced mental focus and having a greater self-image. Chiropractic personifies the healthy lifestyle.
If you have any questions about how you can improve your health please do not hesitate to contact Dr. Anthony Albano, Jr.
Anthony Albano, Jr., D.C.
Albano Chiropractic Center, LLC
"Be Your Best"
2503 Hwy 60 East
Valrico, FL 33594
(813) 654-8400
www.albanochiro.com
dra@albanochiro.com
It Doesn't Matter What The Scale Says!
Colleen Pounds,
Physical Therapist Assistant
Weight Scales lie!
My victory can be seen but not weighed, and it feels good.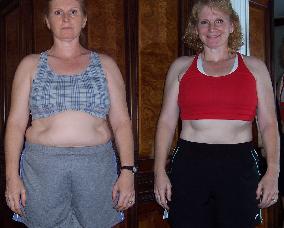 Before RobZFitness, like so many others, I habitually stepped on the scale. My Personal Trainer immediately began drilling into my head to "Stay off of the scale", explaining that it often gives false impressions of what really happens, which leaves people feeling defeated and depressed. Through the Education component of the RobZFitness program I learned that the only reason scale-weight is needed is to help calculate one's Fat-to-Muscle Mass ratio. Herein lay my victory.
If I were to tell you that from May to September I lost 13.5 pounds, you might not be impressed? However, here is the big picture. Within these four months, I lost 29 lbs of body fat, gained 15.5 lbs of lean muscle mass, dropped from a size 16 to 10 and decreased my body fat from 37% to 22%! This is what I actually achieved with the in-depth education of fitness and nutrition given to me by Davie and the RobZFitness Team. I feel very confident that I now have the tools to maintain my results, my strength and my nutritional habits for a lifetime.
Thanks gang!
October 8, 2008 by RobZ · Comments Off on Protected: RobZFitness (-)